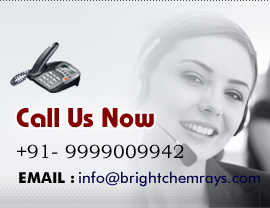 Company Profile
A name to rely upon, 'BRIGHT CHEMRAYS' is a Manufacturer, Importer, Exporter of a comprehensive range of Industrial Chemicals,R.O.Chemicals, Boiler Treatment Chemicals, ETP Chemicals, Cooling Water Treatment Chemicals, Fuel Additives, Fire Side Chemicals, Sugar Processing Chemicals, Corrosion Inhibitors that lie in compliance with the industry accepted standards.We also deal in WATER TREATMENT PLANTS,RESINS,POLYELECTROLYTES,OPERATION & MAINTENANCE of water treament plants.

BRIGHT CHEMRAYS is an organization based on principles of honesty, integrity and transparency to earn the trust of our valued customers. Our objective is to supply quality products at competitive price. Our Endeavour is to treat our clients as business partners and constantly understand & cater to their requirements in all possible ways at all times.
Research & Development
Owing to the help of our dedicated and experienced R & D, Product management and customer support staff, we are able to carry out research and product development activities. In order to further extend our range of industrial chemicals in terms of quantity and quality, we have invested considerably into developing a separate research and development department.
Quality Management
At BRIGHT CHEMRAYS, we do not compromise on customer satisfaction about quality standards. Procedures and parameters are meticulously followed to ensure consistent quality levels in all products. The material is tested at various stages of production.
Our Team
We are privileged to have a diligent and enthusiastic team that we have employed after rigorous screening and scrutiny. Our team is a judicious blend of young and experienced personnel who are instrumental in turning the market requirements into reality.
Our Mission and Vision
To be the leader in water treatment field through innovative technologies and after sales services which benefits our valued customers by enhanced production and improved water and air qualities and reduced production cost and less energy consumption.
Our Values
Best Ingredients
Super power chemicals
Best contents
Latest technology at all times.
Safety
At BRIGHT CHEMRAYS, We assess risk and put safety first before beginning any action with a goal of zero injuries.
Expertise
At BRIGHT CHEMRAYS,with the accumulated experience of more than 100 years we are always learning, always delivering using all of our resources to create, sell and deliver the total solution.
Accountability
At BRIGHT CHEMRAYS, we are always ready to take responsibility by setting measurable goals and monitoring performance with discipline & dedication.